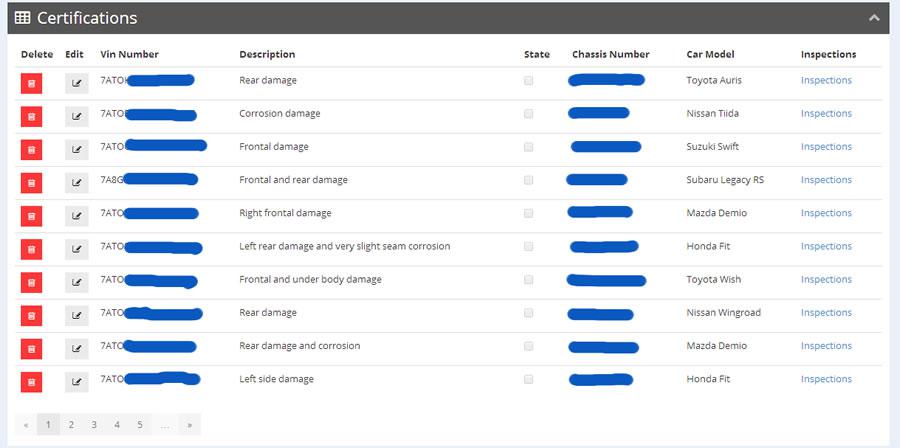 This custom made software was designed specifically for NZTA (New Zealand Transport Agency) car inspectors. 
It facilitates the authorized car inspector to load and organize the car inspections data(create/delete/archive), upload files, create new inspections, upload images and documents and much more.
Each car can have an unlimited number of inspections performed and each inspection contains reporting sheets, images and data collected about the newly imported car. We included an extended search capability which allows to search for any files, any information required, really fast.
The software handles hundreds of thousands of images and files making the inspectors life so much easier. It provides a safe connectivity with data backed up every day, accessible from any location and any device.
The software application interface is using the most modern design techniques, being optimized for any screen size: desktops, laptops, tablets and smart phones.
The software has been designed using the Microsoft ASP.NET MVC technology for safety and reliability.
---
Vehicle Inspection Software, Car Service App, Car Inspection Apps, Software For Car Inspections, Software For Car Imports, NZTA Software, Software For NZTA Car Inspectors, Inspections Management Software, Safety Management Software, Online Safety Check Lists, SAS Cars Workshop Software, Web-Based Scheduling And Logistics, Vehicle Evaluation Software, Custom Software Apps For Car Inspections. If you are looking for management software, or any kind of software for your business, give us a call! We have a lot of software design experience and knowledge and can design and customize the right software for your needs!